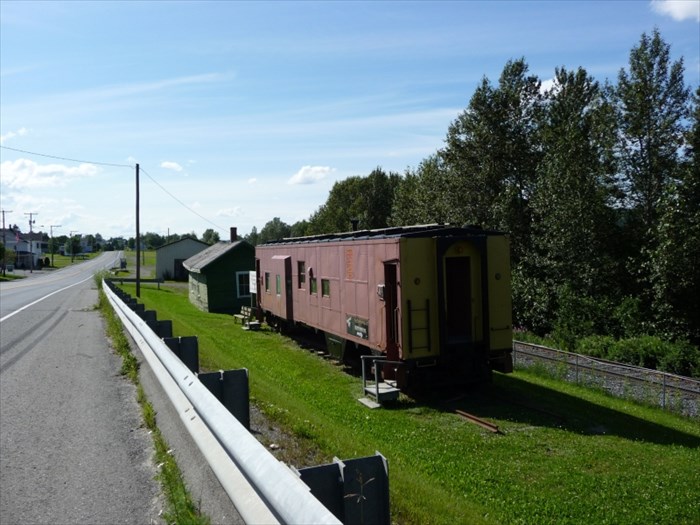 The Story
Built of redwood in 1910, the Green Water Tank replenished the water supply of steam-powered locomotives. The tank became obsolete in 1958 when diesel replaced the last of the steam engines. The town of Frenchville purchased the tank from the Bangor & Aroostook (B&A) Railroad, using it as a water reservoir for the fire department until 1981. It is one of a few surviving railroad water tanks in the eastern United States. In 1985, a historical society formed and acquired the tower.
Pullman Company built The B&A railroad car in 1943, originally as a World War II troop sleeper car. In 1949, the B&A Railroad refitted the car as a caboose. It remained in service until 1981 and B&A Railroad donated the caboose to the historical society in 1988. Both the caboose and water tank were listed in the National Register of Historic Places in 1994. The Caboose currently houses a display of books, local memorabilia, and antiques.
The Threat
In the 1980s, an Eagle Scout sanded and painted the Caboose, while other volunteers refinished the inside. In 1987, volunteers and Boy Scouts refurbished the exterior of the Water Tower, fixing the metal bands and the roofing and applying a new coat of paint. Since that time much of the maintenance has been deferred. There is currently no maintenance plan for these structures.
The Solution
It is now time to again call upon volunteers, who have been so instrumental in saving the structures previously, to help maintain them again. Developing a long-term maintenance plan could aid in ensuring protection against weathering and deterioration and help the water tank and cabooses survive for future generations. One way to aid continual maintenance of a structure is by utilizing its space. Exploring options for community use of the Caboose could help its long-term preservation.