The Protect & Sell Program, matches buyers interested in historic buildings with preservation-minded sellers of unique properties across Maine. Protect & Sell works with buildings at least 50 years old, and not only facilitates the purchase and protection process, it also guarantees peace of mind to individuals seeking to sell and safeguard their historic properties.
Contact Ali Barrionuevo, Real Estate Manager at 207.847.3577 or ali@mainepreservation.org to learn more about how Maine Preservation can help you transition and protect your special place.
Program Overview
Established in 2014, Maine Preservation's Protect & Sell Program markets historic Maine properties and secures buyers committed to maintaining and (if necessary) rehabilitating historic buildings. The Program matches sellers who want to safeguard their property's future with preservation-minded buyers. We enter directly into real estate transactions and have the ability to partner with homeowners, commercial property owners, land and conservation trusts, environmental and agricultural organizations, historical societies and municipalities to help save historic buildings.
For properties in our program, Maine Preservation typically makes an option-to-purchase agreement with the seller for an agreed-on price. That option is exercised at the time of closing with a new purchaser. Approved properties can be offered for sale at market price, or the owner may choose to generate charitable donation tax benefits by donating the property or offering it to us at a discounted price.
Maine Preservation retains preservation easements on properties sold through the Protect & Sell program to help guide any needed rehabilitation and to ensure preservation of the building. Preservation easements are legal documents that run with the property deed and are in perpetuity (forever). Owners of property with a Maine Preservation preservation easement enjoy ongoing access to technical assistance from our Field Service Program. A charitable contribution given at the time of sale funds the easement monitoring and protection in perpetuity.
Distinguishing itself from the traditional real estate market, the Protect & Sell Program provides access to a niche market of buyers across the country who are seeking to buy and rehabilitate historic properties. These buyers are attracted to the rich and unique quality of place afforded by historic properties. The buyers and sellers we bring together view our engagement and the use of an easement as a seal of authenticity, and the organization's ongoing partnership role and technical assistance a distinct benefit of participating in the program.
The Benefits of Selling a Property through the Protect & Sell Program
The Protect & Sell Program is uniquely positioned to help identify buyers who will acquire and preserve historic houses or commercial buildings while Maine Preservation takes on the future responsibility to provide ongoing technical assistance and property stewardship – and even legal defense if necessary.
Maine Preservation acts as your liasion to the real estate marketplace, providing you with a turnkey sales experience. We'll engage a real estate professional, work with the agent and you to determine the listing price, manage the property marketing process on your behalf, connect with all interested buyers to explain the history of the property, the easement and the rehabilitation needs and agreements, and be your partner throughout the entire transaction, including closing. We also can provide expert technical assistance on often complex rehabilitation projects to help ensure economically practical, long-lasting outcomes. Our years of experience help us clearly answer prospective buyers' questions and resolve any uncertainties. This same skillset is extremely valuable in selling houses needing substantial rehabilitation. Maine Preservation engages buyers by providing detailed information, referrals and suggesting potential solutions.
Maine Preservation lists properties on the MLS, CIRCA, the nation-wide Preservation Directory, and our own website and social media platforms. We can also arrange with the owner to advertise with the National Trust for Historic Preservation, Down East Magazine, Antique Homes and other media outlets. As one of our marketing tools we develop a floor plan and walkthrough brochure for each property, which is also used as baseline documentation for the recorded easement. Additionally, we prepare a summary of the history of the property and draft a preservation easement and rehabilitation agreement (if needed), which highlight the significant historic features of the building, areas of flexibility, and decsribe of essential future maintenance. We typically do not finalize the preservation easement prior to identifying a new buyer, so that the buyer also can provide input into the easement.
What Does the Protect & Sell Preservation Easement Protect?
The goal of a preservation easement is to preserve and restore the significant existing features of the historic building while permitting updating and modernization of other elements to meet the owner's current lifestyle. Every preservation easement is tailored specifically for the individual property to protect the historic features the donor or owner wishes to protect. What you want to preserve can be written into the easement. In all cases, a preservation easement covers exterior features; some have approval or advisory review of interior features, and land features are also protectable if desired. The easement is perpetual and is recorded in the deed of the property.
Easements can allow for continued and new uses of a building, prohibit development, allow for additions, and apply to all or a portion of the property. For example, our easements don't restrict the owner's ability to update the building with up-to-date kitchens, baths, and electric, plumbing and heating systems. Our ongoing goal is to have protected buildings in active use. We want each property to be a functional, habitable space, so changes are allowed as long as essential historic features are not eliminated
The Benefits of a Preservation Easement
First and foremost, a preservation easement offers easement grantors peace of mind that their special places are protected forever. Owners who've invested heavily in a property, through sweat equity or cash and those who have a long family history with or a love of a property are keen to ensure that their property continues to be a valued resource for the property owner and the wider community. In some situations there are tax benefits that are realized when a preservation easement is created. Current and future owners of a property with a preservation easement enjoy access to our technical services; owners find that our assistance is particularly helpful in navigating rehabilitation projects, with or without a contractor or architect. We regularly work work with owners undertaking improvements and projects that address deferred maintenance and prevent ongoing deterioration.
What Are the Effects of a Preservation Easement?
The preservation easement prevents demolition and protects significant features of historic buildings by requiring Maine Preservation's review and approval on changes to any protected features. After the sale closing and any rehab oversight and assistance, Maine Preservation staff and Protect & Sell Committee volunteers conduct annual site visits to check in on the property's condition and upate photo documentation. Our staff then prepares a status report which is kept on record at Maine Preservation.
Our experiences show that unlike most conservation easements, preservation easements do not reduce the value of the property. Instead, the easement focuses the market on buyers who wish to acquire the property to preserve it; filtering out tire-kickers. Although preservation easements have been widely used for decades for historic properties across the country, we have found that some real estate experts in Maine are not well versed in the workings of easements. We work with realtors to bring them up to date on this critical preservation tool to understand its positive impact on properties.
Program Costs
The Protect & Sell Program is supported by charitable contributions arising from the sale of buildings in the program. The sale price in option-to-purchase agreements ranges from market rate, to discounted price, to an outright donation to Maine Preservation, the seller decides based on his or her needs. Maine Preservation secures an easement stewardship contribution from the sale proceeds, or sellers can make an outright donation to cover the cost of easement protection. In rare cases, grants can be used to fund easement protection.
The easement stewardship contribution covers documentation and recording of the easement and rehab agreement (if applicable), legal fees for preparing the option-to-purchase agreement, post-sale review of the rehabilitation plans & construction monitoring, easement monitoring in perpetuity, property sale marketing, and a legal defense fund in the event Maine Preservation must defend the easement in court.
For some endangered properties that meet certain qualifications, Maine Preservation can apply for supplemental support through the Historic Preservation Revolving Loan Fund administered by Maine Historic Preservation Commission. These funds are limited, but can subsidize the easement stewardship contribution and other transaction and protection costs for qualifying properties.
completed protect & sell projects
Grand Trunk Railroad Depot
The iconic 1906 depot is located on Main Street in the heart of Yarmouth Village and is a delightful reminder of our transportation heritage. The building retains many original station features including beautiful bead board walls, light fixtures, fireplace, and ticket window. It had been owned by the Yarmouth Village Improvement Society for more than 50 years and it had been leased as a florist shop since the early 1970s. After many years of faithful caretaking, the owner decided the time was right to sell the property to a new steward and worked with Maine Preservation to find a preservation-minded buyer.
Ford Reiche, an enthusiastic support of historic property rehabilitation and adaptive reuse, purchased the deport for use as commercial office space. A branch of Gorham Savings Bank will open in the depot in 2019.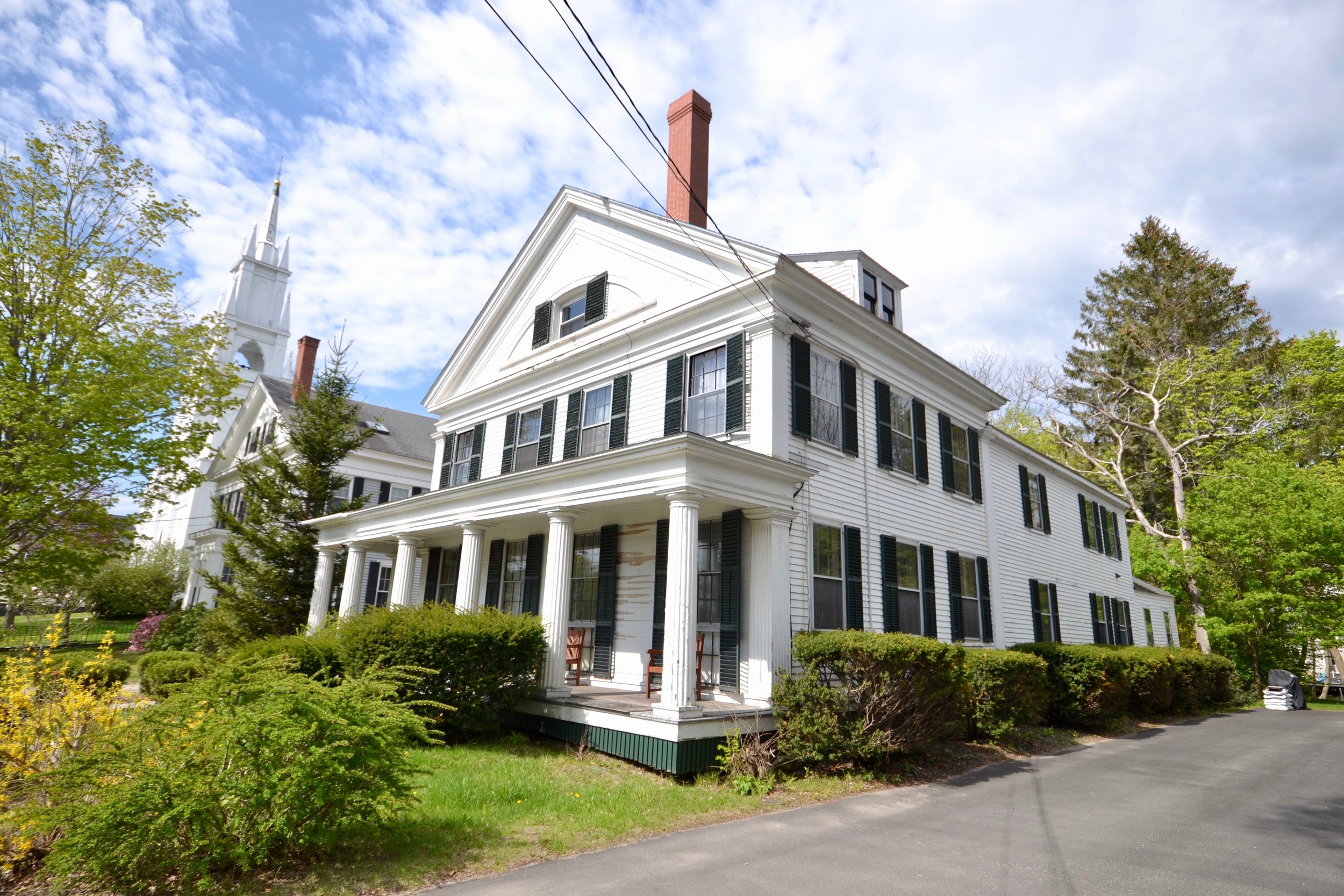 Flanked on both sides by similar homes, this 2.5 story Greek Revival sets directly on the town green across from the library. Constructed in 1841 during the middle of the boom time for the City of Ships, it was the home of Dr. Israel Putman, a graduate of Bowdoin Medical School. Dr. Putnam had an extensive medical practice in Bath and served as the Cities mayor eight times between 1859 and 1867.
The property had served as the headquarters of the Cosmopolitan Club since 1915 but was purchased in April 2017 by an individual who is rehabilitating the house for his private residence.
George Washington Lodge, No. 123 of the Independent Order of Odd Fellows (IOOF), was instituted March 26, 1890 in Pembroke. Six years later, master builder Nathan Foster of Calais erected the Italianate-style building specifically for the organization on what is now Old Route 1/ Old Country Road. The two-story building sits at the old village center of West Pembroke. The property has been well preserved – both on the exterior and interior – and retains virtually all of the original floorplan, plastered walls and original varnished paneled ceilings, wooden floors and doors, window casings and hardware.
The property was purchased in June 2017 to host the library of Greenhorns, a nonprofit that works with young entrepreneurial farmers. The lodge will also function as a gallery and community space, bringing back community activity to the village of West Pembroke.
One of the finest rural examples of the Georgian-style in Maine, the Abijah Buck House sits on property settled by this French-and-Indian-War veteran and his wife Phebe Tyler Buck in 1777. They were the first family to settle "Bucktown," which became known as Buckfield, named after Abijah. The house retains many of its original elements, including raised panel woodwork in 6 rooms, a corner cupboard and two types of interior shutters, doors, latches, flooring, and stenciled walls by Maine 19th century artist Moses Eaton. The house also contains a 9 foot fireplace--the largest known in Maine.
The home was purchased in May 2016 by new owners who are rapidly rehabilitating the property.
Located in downtown Norway, the James O. Crooker House stands as a well-preserved example of late vernacular Greek Revival style. James O. Crooker, a noted tinsmith and hardware dealer, built the house about 1865. In 1864, he purchased a hardware business on Maine Street from Thomas Higgins. Shortly thereafter, he built a brick hardware store in its place, similar in style to his home. The house retains many original features and decorative elements such as its Doric pilasters and entablatures which frame both the house and the main entry, and the corner block trim that decorates the interior window and door frames. Decorative painted tin adorns the ceiling in the living room and parlor, likely a legacy of the builder's profession. The structure comprises the house, an ell, and a two-story attached barn with a gabled roof that contains a circular window and faces the street.
The home was purchased in January 2016 by a local couple who are rehabilitating the property.
The Robbins-Anderson House was built by South Thomaston's founding family, Oliver and Chloe Robbins, who settled in 1762. The current house was the family's second house on the property, built circa 1795 and was renovated about 1870 to include Greek Revival details. About 1900, Isaac and Rosa Anderson, natives of Finland, purchased the property and in the early 20th century donated a small piece of their land for the Finnish Congregational Church. The house and 5 acres had remained in the Anderson family until the sale.
This house was purchased in June 2015, and the new owner, who has local ties, is working to rehabilitate the main house for use as an art gallery, the back sheds for craftspeople and the foundation of the former barn as a sculpture garden.