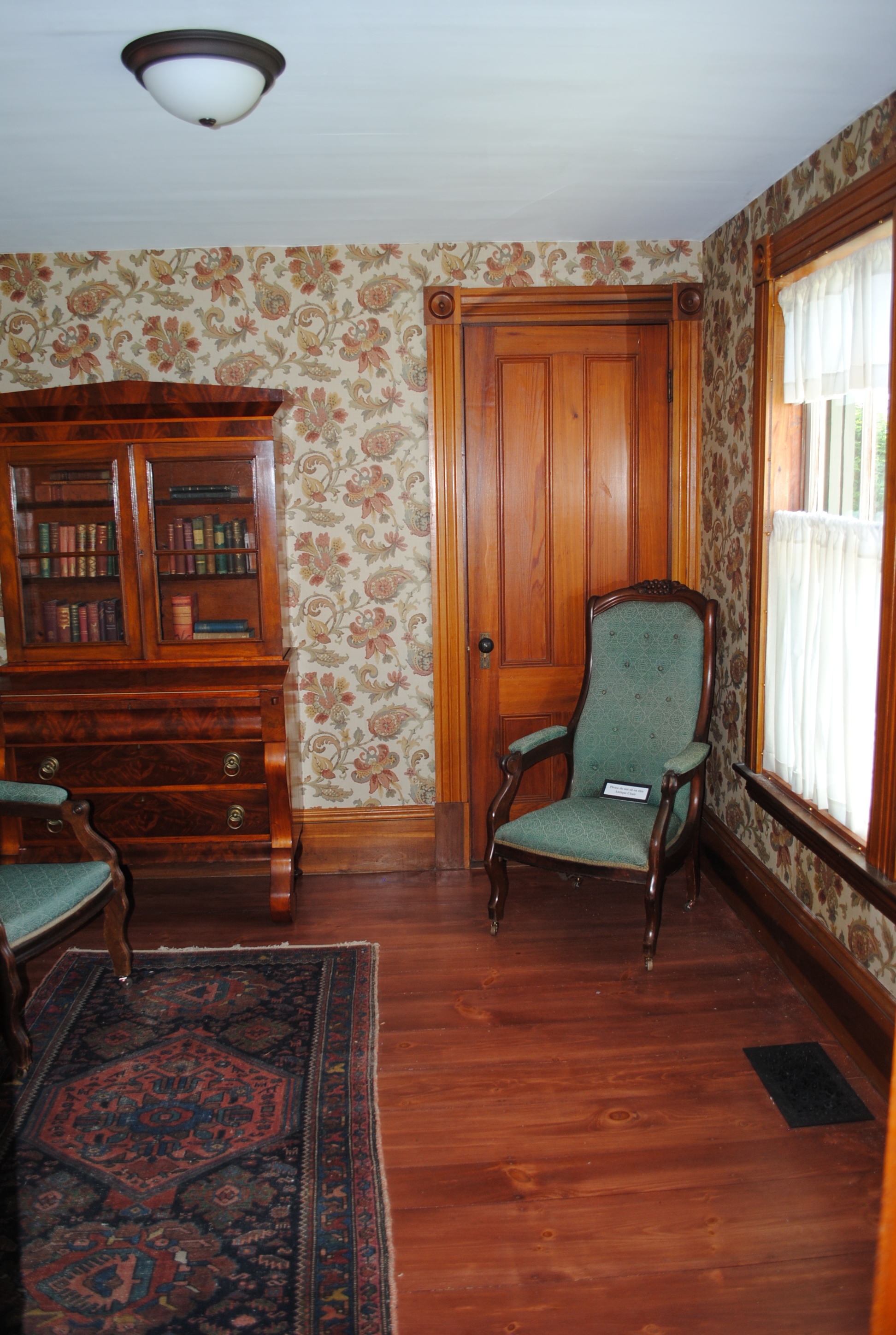 Edmund E. Goodwin built his Queen Anne-style house on Main Street in Sanford's Springvale Village in 1899, soon after his retirement. It remained the property of the Goodwin in his family for the next 115 years. The exterior of the house has been long admired as an unaltered architectural gem, and the interior remains largely unchanged as well. The ground floor woodwork is still coated with original varnish and every door still has the ornate knobs, key plates and hinges installed in 1899. The wallpapers in the parlor and front hall are original to the structure and have survived in fine condition. The Goodwin House even retained virtually all of the original knob-and-tube wiring and switches.
Some alterations were made while it remained a Goodwin family home. Dropped-ceilings were installed throughout much of the first floor during the 20th century. There was also the natural degradation of materials, especially in the side porch and cupola. The home was not heated the winter preceding the Sanford-Springvale Historic Museum's acquisition of the property, which led to the failure of the home's furnace. There was also no source of heat above the first floor other than natural convection, though indications of former stove openings could be seen in many of the upper rooms.
When Harland Eastman at the Sanford-Springvale Historic Museum just next door discovered that E.E. Goodwin's granddaughter was selling her historic home, they agreed to purchase and restore the residence in order to create additional storage, and open the building for tour groups.
During rehabilitation work, degraded clapboards were replaced and the entire exterior was scraped and painted. Custom shutters were made for each window and UV-resistant acrylic sheets crafted for the interior to serve as storms. The drive and walkways were removed and repaved, and new landscaping put in place. Notably, hot air heat was restored to the ground floor, and hot water heat installed on the second floor and both house and stable were rewired with modern systems. The unsightly drop ceilings were also removed and original ceilings restored. Furniture was reupholstered with original fabric made in the local mills.
More than seventy Sanford citizens and institutions donated a total of $120,000 to put the house back in order. It's now open to visitors, and more than 500 students have already toured the property, with many more expected in the near future. Thanks to the diligence, generosity and commitment of society members and community residents, The Goodwin House stands as an exemplar of what can be done to preserve Maine's history.