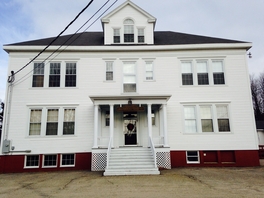 In 2011, voters in the five towns within MSAD6 narrowly voted to allow the school district to demolish unused buildings instead of giving them to the community for repurposing, though no plans or costs for such uses were available. Meanwhile, their neighbors in Buxton voted "NO" on this article by a narrow margin, suggesting that where voters were informed about the issue, they agreed that repurposing is better than demolishing.
As a result, the school district is considering selling the Bar Mills School or demolishing it for an additional seven parking spaces to serve the district administrative headquarters (next door at the former Eliza Libby School). The school district had budgeted for demolition of Hollis High School, but a very close school board directors' vote rejected the lowest contractor bid. Since that vote, the district has reevaluated its land/space needs, and is exploring an option to buy land on the West Buxton side of the Hollis Elementary School, which will provide a wider range of possibilities for future expansion and make the former Hollis High School more likely available for community use.
The combined appraised value of these buildings is $821,690, whose sale could bring the school district some portion of this, rather than spending an estimated $75,000 in demolition. Demolition would create approx 1,020 tons of debris (assuming 25% recycling). The embodied energy in these two buildings is equivalent to 190,103 gallons of gasoline.
The Community Heritage Alliance of Rural Maine (CHARM) is currently working to convince the Hollis Selectmen to accept the former Hollis High School Building and then transfer it to CHARM for repurposing. Additionally, The Buxton-Hollis Historical Society is considering using the Bar Mills building as the organization's headquarters which enhance opportunities for the building's interpretation and historical study. Additional possibilities include Recreation Department, library, police, or town hall use.